Curry, Cocktails and Christmas Shopping in Leeds
After another bout of being really poorly, this time with a really awful flu like bug, I was really looking forward to the weekend in Leeds that me and the chap had planned a few weeks back. Tickets to Florence and Machine on the Friday night, followed by Christmas shopping in Leeds on the Saturday. I can't tell you how disappointed I was when the email came through on the Tuesday saying that Florence had to cancel the gig due to breaking her foot. Understandable, but still disappointing. Given the last time we went out out was back in September(!) we decided that, we'd still go across to Leeds, have a night out and then Christmas shopping the following day.
Since we were going out out (can you tell I was excited?), I decided to wear my best/only mini dress. I always feel self conscious in mini dresses, yet I used to wear them all the time in my 20s. This one by Alice McCall is a real beauty though that I picked up for a bargain price in a Liberty sale a few years back. I've only worn it once before, so it was time to glam it up and get it out again.
We started the night at an amazing Keralan restaurant, Tharavadu. Neither me, nor the chap had tried Keralan food before, so we opted for the Sadhya, which is a platter of lots of different dishes from the menu and, if you don't know what you're ordering really, is a great opportunity to try a few different things.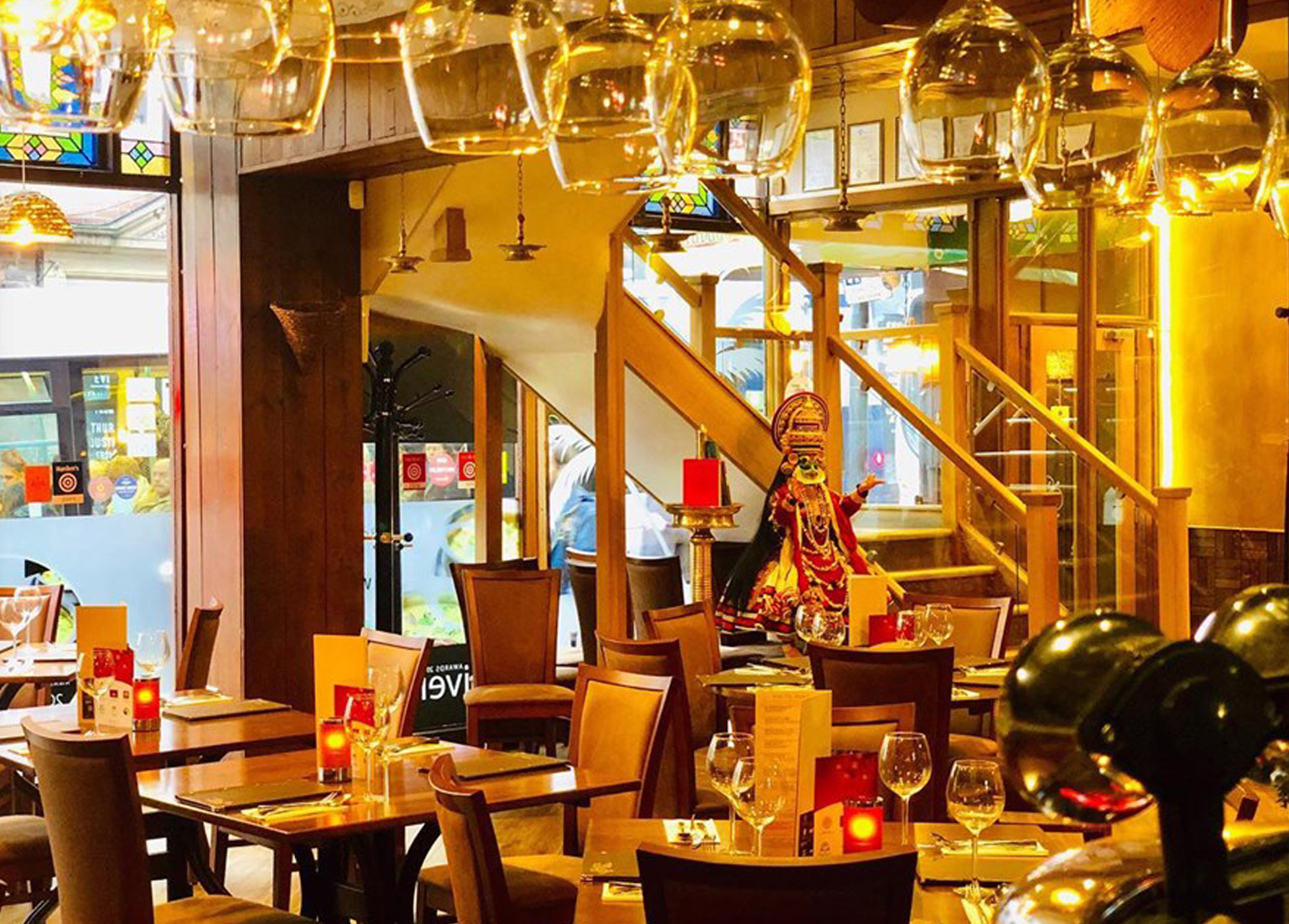 Alas, my camera decided to do funny things, so I didn't get a photo of the platter of food, but you will have to take my word for it that it was delicious. Both of us particularly enjoyed the chicken curry, which was so unbelievably tasty. Having been ill so many times this year, and not feeling like I've been battling the illnesses off particularly well, after 6 months of trying to be vegetarian I decided to go back to eating meat. Maybe it's psychological, but I do feel better for it.
By the time we left the restaurant you could have rolled us out we were so full, but Leeds was bustling and we had cocktails to enjoy. Next stop was Angelica, a very swish cocktail bar on top of the Trinity shopping centre with views across the city, and wrap around balconies, which we decided to give a miss given how cold it was.
We had a prime people watching seat to enjoy our cocktails from though, and the chap's arrived literally in a poof of smoke, since they kind of set fire to it or something. It smells like a bonfire is arriving at the table, but he seemed to enjoy it very much.
Next, it was on to the Alchemist, where the chap ordered something that looked like one of the potions from a 1930s horror like Dr. Jekyll and Mr. Hyde, I didn't know what I expected he might turn into by the end of the evening. I was far more conservative, just sticking to my prosecco, and thankfully the chap didn't turn into Mr. Hyde, or go invisible, or do any other weird things that could be expected from drinking a smoking concoction with a syringe full of green stuff (Absinthe) on top.
Next morning we had a lazy start, and then went to Weatherspoons for a cheap and cheerful breakfast. Spoons was buzzing, already, but we found a table and enjoyed our brekkies. It was Black Friday weekend, so as expected, Leeds was rammed. We spent hours trawling the shops, and it was absolutely exhausting. I forgot how out of practice I am with 'proper shopping'. I did get some bargains for Christmas though, and also got to see the face that the chap pulled when I pulled out a £1750 dress in Harvey Nichols. As much as I love fondling the expensive goods in that shop, it really is obscene isn't it? Even if I had that money at my disposal, I don't think I could bring myself to spend it like that. How the other half live.
It was late afternoon by the time we were leaving Leeds, and we were both thoroughly exhausted. What a fabulous weekend it was though, and now we've got the rescheduled Florence gig to look forward to early next year.